Sometimes it just isn't enough to get a new sedan; sometimes you want the hottest sedan in the parking lot. That's where the 2022 Kia Stinger comes into play. Available at our Folsom Kia dealership and starting at $36,090, the Kia Stinger is a perfect blend of style and substance.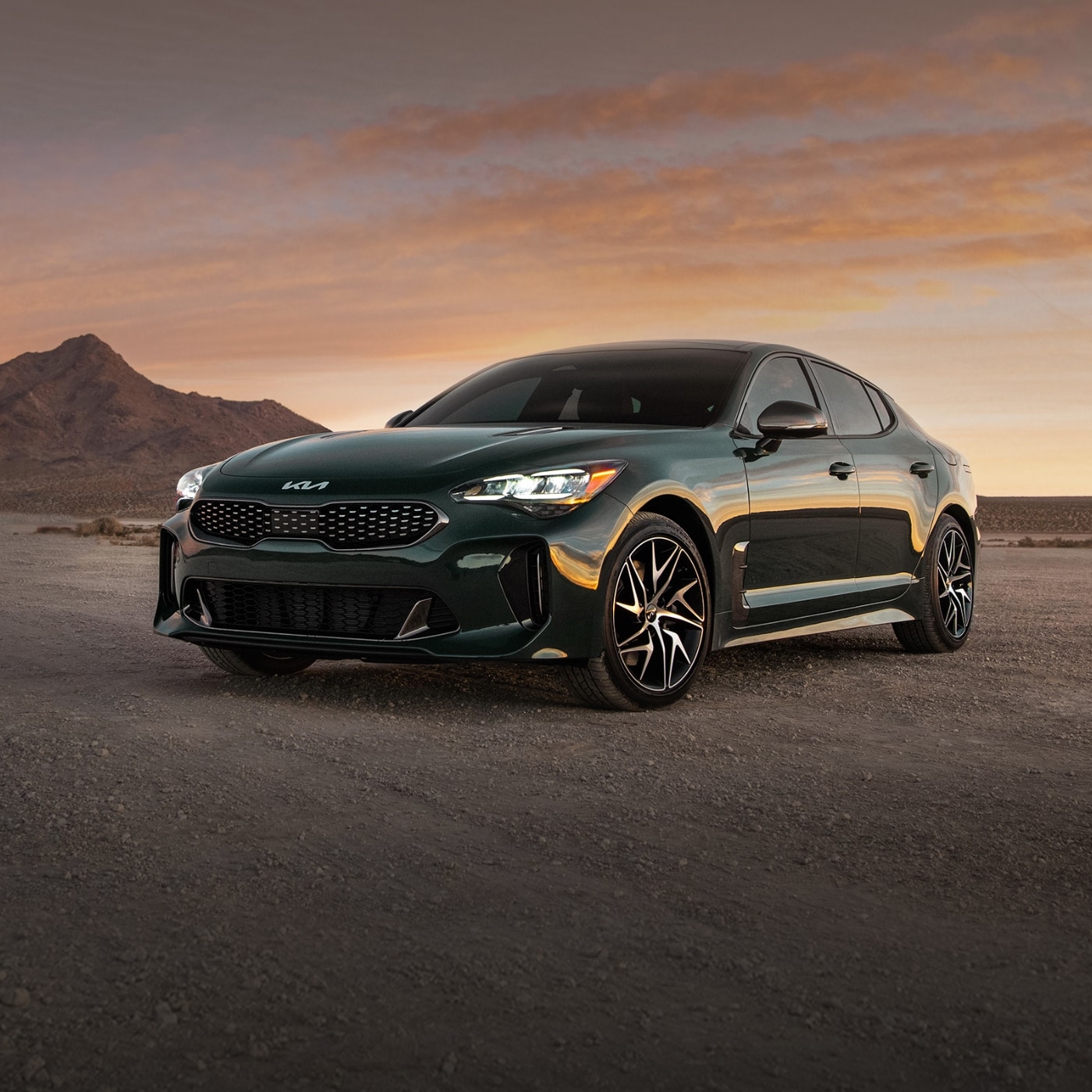 2022 Kia Stinger Interior and Exterior
2022 Kia Stinger Trim Levels
The 2022 Kia Stinger is available in Ascot Green, Panthera Metal, Micro Blue Pearl, HiChroma Red, Ceramic Silver, Snow White Pearl and Aurora Black Pearl. It was made with an aerodynamic design to give it a drag-reducing exterior. Put it side-by-side with a Kia Forte and you will immediately see the difference.
The 2022 Kia Stinger also is the first to come with alloy wheels. They are available in both 18-inch and 19-inch wheels. Additionally, there are dark chrome accents and an LED tail-light for a real high-quality look. If that's not enough for you, you can beautify your ride even more with Kia accessories.
The interior of the 2022 Kia Stinger will make you feel like the future is now. You will be greeted with sleek colors and a bright touchscreen in the center. You can even add sunroof and an eight-way adjustable seat.
The seating is premium. With metallic accents and a standard leather-trim, Kia manufacturers modeled the interior of the 2022 Kia Sportage after high-end watches.
2022 Kia Stinger Engine
New to the Kia Stinger is an available 2.5-liter turbocharged four-cylinder engine with 300 hp and 311 lb-ft of torque. If you want something with a bit more umph, you could also go with the available 3.3-liter turbocharged V6 engine with 368 hp and 376 lb-ft of torque.
When you make the decision to finance a 2022 Kia Stinger, you can rest assured that the vehicle has all of the power and performance you need to get from point A to B effectively.
2022 Kia Stinger Tech and Safety
2022 Kia Stinger Sound System
Harman Kardon® 15-speaker premium audio system
The 2022 Kia Stinger comes with plenty of driver-assist features to keep you and your passengers safe. This includes an adaptive cruise control, collision assist with automatic braking features, a surrounding view monitor, blind spot warning, lane keeping assist, rear cross-traffic assist and low beam assistance.
Stop by Folsom Lake Kia to test drive a 2022 Kia Stinger so you can see for yourself!